Hi, Fandom Fans. This is our last roundup for July. Anyone else panicking about the holidays already? While you may not be thinking about turkey or gifts yet, you might be thinking about what happened in the world of fandom this week. You don't have to wonder anymore, and we got just what you are looking for! That rhymed. So, relax and kick your feet up, and let's get into some fandom news.
Boo! A New Ghostbusters Trailer for You
Ghosts are on the loose again. Time to dial up the Ghostbusters. The newest trailer for Ghostbusters: Afterlife was released this week by Sony Entertainment. The film follows a younger group of Ghostbusters related to the ones we all know and love. Their small town becomes the center of the apocalypse. Do these kids have what it takes to bust some ghost? Find out when the movie hits theaters on November 11, 2021.
Things get Batty This September

New York's most fabulous vampires are coming back! What We Do In The Shadows is returning for its third season. Nandor, Nadja, Laszlo, Colin Robinson, and Guillermo make their return on September 2, 2021, on FX. The show will be available for streaming the next day on Hulu. We are just hoping for more Jackie Daytona.
Ahsoka Herself Confirms Castmates
We reported last year that Rosario Dawson's Ahsoka would be getting her own series on Disney Plus. This week the actress looks to have confirmed the casting of two giant roles! She shared in her Instagram stories another user's news about Mena Massoud (Disney's Aladdin) being cast as Ezra, and Lars Mikkelsen (The Witcher) as Grand Admiral Thrawn. Mikkelsen voiced Thrawn in Star Wars Rebels and has been a leading fan-favorite for the live-action role. This will not be the first time a voice actor plays the same character in a live-action adaptation. Katee Sackhoff voiced Bo-Katan in Star Wars Rebels and then played the character in The Mandalorian.
The Batfleck Returns?
He's on the streets of Gotham City … Glasgow pic.twitter.com/jR0ewZMejQ

— David Pratt (@foreigncorr1) July 26, 2021
Ezra Miller's solo Flash film has already begun filming. We have already confirmed that there will be at least 3 different Flashes and 2 Batmen. A series of tweets have fans believing that Barry got himself a third bat. The tweets posted by David Pratt show a Batman on a batcycle in Glasgow, Scotland. The Batsuit has a striking resemblance to the one Ben Affleck wore in Justice League. However, it might not be Ben in the suit. Ben is currently on a yacht with Jennifer Lopez. Perhaps it's a stunt double until Ben is done celebrating his girl's 52nd birthday?
Not A Wonderful Kind of Day
After being on PBS for 25 years, the beloved cartoon Arthur is being canceled. A longtime writer for the show, Kathy Waugh, revealed the series hasn't been in production for two years. Waugh shared the news on the Finding DW podcast, hosted by Jason Szwimer, one of the original voices of DW. Waugh also stated, "Arthur is no longer in production. We had our wrap party two years ago," Waugh told Szwimer. "I think they [PBS] made a mistake, and I think Arthur should come back, and I'm not alone with that." Arthur has 25 seasons and, thanks to the internet, has become a treasure trove for memes. PBS released a statement stating, "In the winter of 2022, the 25th and final season of Arthur will debut. Arthur will continue to be available on PBS KIDS for years to come," Carol Greenwald, an executive producer for the series, told IGN. "Producer GBH and PBS KIDS are continuing to work together on additional Arthur content, sharing the lessons of Arthur and his friends in new ways."
Better Get Well Soon, Saul

Better Call Saul actor Bob Odenkirk is in "stable condition" after suffering from a heart-related condition. Odenkirk was with his family in New Mexico when he suddenly collapsed.
Odenkirk's team issued this statement:
"We can confirm Bob is in stable condition after experiencing a heart-related incident. He and his family would like to express gratitude for the incredible doctors and nurses looking after him, as well as his cast, crew, and producers who have stayed by his side. The Odenkirks would also like to thank everyone for the outpouring of good wishes and ask for their privacy at this time as Bob works on his recovery."
We at Fandom Spotlite would like to wish Bob Odenkirk a speedy recovery.
A Return to Wakanda
— media (@marvelsupdates2) July 27, 2021
A video was shared on Twitter this week of the set for The Black Panther: Wakanda Forever. The video looks to be showing a Wakandan throne room. In last week's Fandom News Roundup, we reported that Michaela Coel had been cast in an unspecified role. We hope that this video is proof they have already started production on the Black Panther sequel and that more information about the film is on the way.
Two Hawkeyes!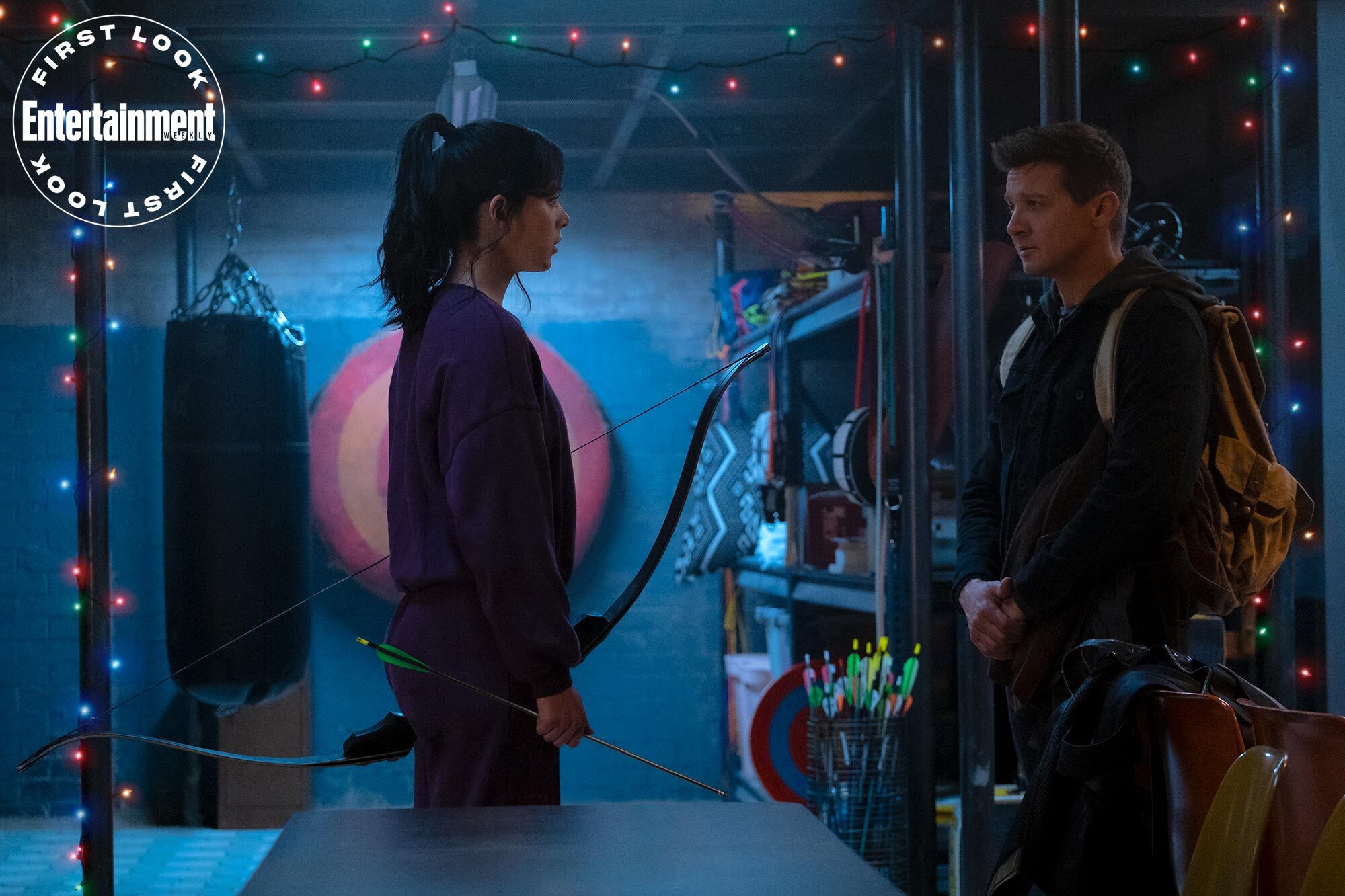 Marvel Studios took to their official Twitter to give us our first look at how Kate Bishop and Clint meet. It looks like some serious training is about to go down. Marvel Studios' Hawkeye, starring Jeremy Renner and Hailee Steinfield starts streaming Wednesday, November 24 on Disney+.
A Classic Rolls Back Into Theaters

Hasbro is partnering with Fathom Events to bring back Transformers: The Movie to theaters! The cult classic animated film was released in 1986, which means the film is celebrating its 35th anniversary. Transformers: The Movie will return to theaters on Sunday, Sept. 26, and Tuesday, Sept. 28 at 7 p.m. local times. The screenings will also feature new exclusive content. Tickets are currently not available for this two-night event, but you can put yourself on the waiting list to be the first to know when tickets go live.
Films in Development

This week there was a lot of news about new films and tv series in development.
Final Fantasy – TV Series
Besides working on a live-action Pokemon series, Netflix is also said to be developing a live-action Final Fantast series. However, this is only a rumor right now, but it won't surprise us if it turns out to be true. Movies like Sonic and Mortal Kombat have been financially successful. Also, Netflix has already made several investments into live-action adaptations of video games like The Witcher.
The Exorcist – Film

Director David Gordon Green confirms that the new Exorcist film will be a trilogy. These films will be a sequel to the original 1973 film. However, The Exorcist 2 will no longer be canon.
The Haunted Mansion – Film

Disney is giving the Haunted Mansion another shot. This time the film will star Tiffany Haddish and Lakeith Steinfield. Dear White People's Justin Simien is set to direct the newest incarnation with a script penned by Katie Dippold ("Ghostbusters: Answer The Call"). If Jungle Cruise turns out to be the success Disney is hoping for, we should expect more movies based on theme park attractions.
Predator Skull – Film
The new Predator film, Predator: Skulls, is already in production. Dan Trachtenberg is the director of the film. Trachtenberg's film will be a female-fronted origin story tracing the Predator's first journey to Earth. Producers John Davis and John Fox shared, "It goes back to what made the original Predator movie work," Davis said of Predator 5, which he likened to the Leonardo DiCaprio-starring film The Revenant. "It's the ingenuity of a human being who won't give up, who's able to observe and interpret, basically being able to beat a stronger, more powerful, well-armed force." A Predator origin story, we wonder who recently pitched that idea?
The Black Widow Strikes at Disney

It seems that Scarlett Johansson has bad blood with Disney. The Black Widow actress filed a lawsuit against Disney alleging that her contract was breached when Black Widow was released on Disney+. The lawsuit, filed in Los Angeles Superior Court, states that Black Widow had been guaranteed an exclusive theatrical release when Johansson signed her deal, and by putting it on the streaming service, they breached the deal. It is odd to think that Disney never communicated with Johansson about the film going to Disney+. This story is still developing, and we will keep you informed as new information comes in.
We covered a lot today! Were you able to handle it all? Share with us your favorite story from July. What are you hoping August will bring us? Chat with us in the comments and online via our socials. Remember to stay safe, and we'll see you next month.
---