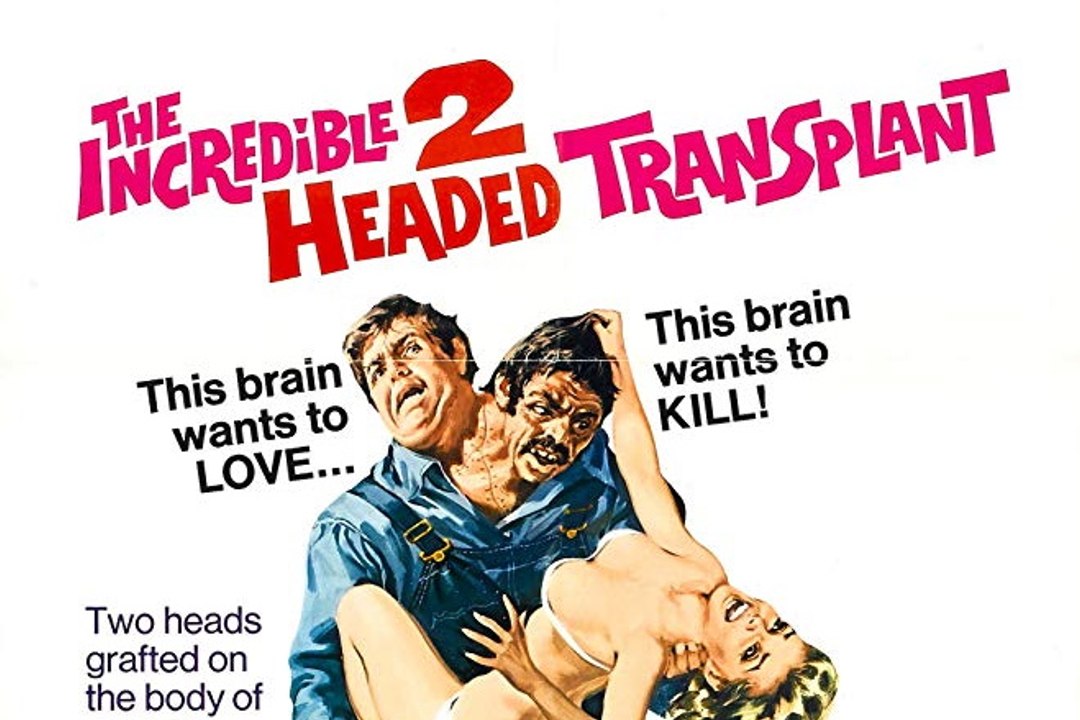 They say two heads are better than one (unless your Cerberus and find yourself sniffing your butts with three noses) and I want to think the studio thinktank behind this little cinematic slice of amyloid plaque had clear minds the day they dreamt up this 1971 horror classic. Sadly, I feel the BDNF (stinky brain fertilizer) in their corpus callosum that day was going a little bonkers! This is the kind of movie you watch late at night on your Casio Model Tv-980b Ti-stn Portable LCD Color TV and your father shouts "have you lost your mind!" The answer is yes and you will lose a little bit of your sanity from the insanity this mind-bender is!
One of the last great head trips from the people at American International Pictures, The Incredible 2-Headed Transplant was a quasi-sequel to their earlier blacksploitation film The Thing With Two Heads, which had the head of Academy Award Winning actor Ray Milland (1945 best actor for The Lost Weekend) transplanted onto the body of convicted felon Roosevelt "Rosey" Grier (even your frontal operculum couldn't make that story up!). Like all great exploitation movies, if one makes money, then let the heads, and dollars, roll by repeating the formula. A staple in Drive-Ins, the film has regularly played on late-night TV as well, which added a few buckaroos along the way… except for Dern, who on The Johnny Carson Show gripped his check bounced for his role in the movie!
This time around it's Bruce Dern (whose performance will make your medulla oblongata work on overdrive) as the crazy mad scientist experimenting with the concepts of a head transplant. I often wonder what the collegiate deans must contemplate while their students present these Kafka experimentation theories. While building his scientific reputation, he still needs some landscaping done. When an accident, caused by an escaped looney tune, leaves the gardener dead, Dern gets the brilliant idea to use the fresh bodies. Alas, like many tales of medical blasphemy, the creature uses its motor cortex to run amok and the maker must kill his creation (Mary Shelly it ain't!). The rest of the cast does their best with the material, including a rare film appearance of future disk jockey (and Scooby Doo's snackalicious Shaggy) Casey Kasem.
Zapping through your synapsis at 87 minutes, and directed by Anthony M. Lanza (who went on to direct pulsators like The Glory Stompers and Squezze Play starring 1970s Dallas cowboy players), this film lives on as one of the greatest two-headed transplant movies there ever was and will certainly have you popping some Advil for the massive migraines it causes. You can find this gem on streaming services like Tubi and on the great Midnight Madness DVD collections from MGM., along with The Man With Two Heads. but it was also rifted to shreds on Rifftrax. So, focus your parietal lobe, wolf down some fatty fish with a sprinkle of Ginkgo biloba, and float in your head space for this wild, yet smart, ride!